Your questions, your ideas, your research
In the Student Research Center sfz Nordwürttemberg at experimenta in Heilbronn, you can work on your own projects with professional support. We look forward to seeing you!
Student Research Center sfz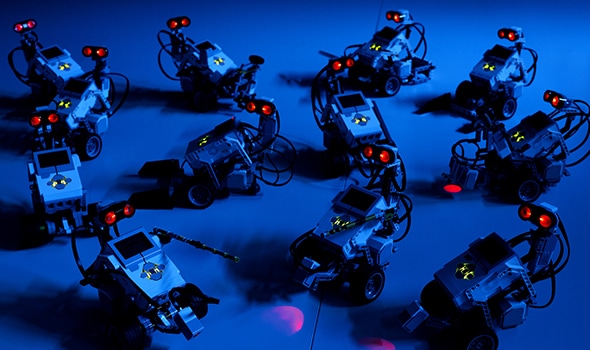 In the sfz, you can work on your own ideas and projects just the way you want. A total of eight well equipped labs are available to you. You can do research on projects over a longer period of time and – if you'd like – you can submit them to competitions like Jugend forscht. You are not alone in your endeavors. Our experimenta course leaders and delegated instructors and students provide active support. Find inspiration in numerous courses and holiday workshops and continue to develop your ideas.
Philosophy
In the student research center, all young STEM enthusiasts can develop their own ideas scientifically – no matter what their previous knowledge. In keeping with the method of research-based learning, they work independently on their projects supported by our team that serves as a constant anchor point. Students will encounter people with similar interests who they can exchange ideas and work with. Together we create a collective in which everyone feels welcome and has to courage to tackle projects on their own.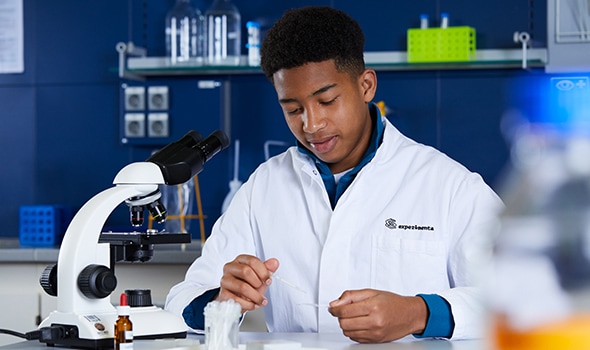 Competitions
In national and international competitions, you can not only demonstrate and expand upon your skills. You also meet people with similar interests and gather new experiences. Click here for a list of interesting competitions.
SciDay
In the Science Day series, you can attend interesting expert lectures on changing topics drawn from nature and technology. Do you have any questions? Both technical as well as general questions regarding further studies and careers in research are best asked here. Equipment
Would you like to find out what we can offer you here at the SfZ? Or do you have an idea for a project to be submitted to the Jugend forscht competition and are looking for the right equipment? No problem. Simply take a look around you …
~|elegant-themes~|elegant-themes-icon~|
Infrared spectromete
Your Subtitle Goes Here
The infrared spectrometer is ideal for determining many different components in your samples. Simply press a button to analyze your samples. A 360° rotation system provides you with enough options to maneuver to analyze both liquid samples as well as solid samples on the basis of a reference spectrum.
~|elegant-themes~|elegant-themes-icon~|
Fluorescence microscope
Your Subtitle Goes Here
Our fluorescence microscope lets you use state-of-the-art LED lights to stimulate fluorescence molecules of several wavelengths – for example in cells – at the same time and then take pictures of the cells. Using various contrasting techniques, this produces very detailed images.
~|elegant-themes~|elegant-themes-icon~|
NanoDrop instruments
Your Subtitle Goes Here
NanoDrop instruments are commonly used to analyze the purity and quantity of DNA, RNA or protein samples. They can also be used to determine the density of bacteria cultures.
~|elegant-themes~|elegant-themes-icon~|
HM400 oscilloscope
Your Subtitle Goes Here
Using the oscilloscope, you can measure the electrical voltages and their change over time and display them graphically. Low noise measuring amplifiers and reliable triggering of the signal recording makes it easier to work accurately and to obtain the correct measured date. The equipment is very easy to use thanks to automatic parameter settings. This lets you concentrate fully on your results.
~|elegant-themes~|elegant-themes-icon~|
Sensorkit X40
Your Subtitle Goes Here
Sensorkit X40 gives you the diversity you need when working with electrical circuits. You learn about the different aspects of electrical engineering in various applications with 40 different sensors. The Sensorkit is compatible with all standard programming tools and is also ideal for beginners.
~|elegant-themes~|elegant-themes-icon~|
Raspberry Pi 4
Your Subtitle Goes Here
Many projects need a digital control unit or the logging of sensor data. Using Raspberry Pi 4, you can program high-performance robots, for example, or record measured data over long periods of time. It functions like a mini-computer to which you can connect the monitor, mouse and screen.
~|elegant-themes~|elegant-themes-icon~|
LEGO® MINDSTORMS® Education EV3 Expansion Set (45560)
Your Subtitle Goes Here
The expansion set for the Lego Mindstorm series lets you develop more complex and larger designs. The numerous additional elements also provide insight into mechatronics and robotics. They facilitate your creative problem-solving skills and logical thinking. The expanded content includes numerous programs and instructions to help you.
~|elegant-themes~|elegant-themes-icon~|
pH meter
Your Subtitle Goes Here
The pH meter helps you test the pH, the acidity, of your solution.
~|elegant-themes~|elegant-themes-icon~|
Titration equipment
Your Subtitle Goes Here
In addition to being a means of precisely controlling experiments, this titrator is easy to use thanks to its touchscreen. To analyze your samples as accurately as possible, the titrator is equipped with a 360° rotating unit and provides calculations rapidly and has an aeration system for test tubes.
~|elegant-themes~|elegant-themes-icon~|
WT1 soldering station
Your Subtitle Goes Here
The soldering station provides a clear and beginner-friendly introduction to soldering. The separate heating element for the soldering pin is removable. This lets you change tips while soldering as soon as a tip no longer functional.
~|elegant-themes~|elegant-themes-icon~|
Fume hood
Your Subtitle Goes Here
A fume hood makes lab work safe. To ensure that no explosive or hazardous atmosphere can form, the safety equipment has a steady extraction function. Contaminants and dirt particles are removed. This means results are more accurate. The fume hood with its integrated glass sliding window also prevents liquids from splashing onto you.
~|elegant-themes~|elegant-themes-icon~|
CellXpert
Your Subtitle Goes Here
You can grow cell cultures for your experiments in the CellXpert incubator. We help you with your cell cultures so that you have the cells available when you need for your experiment.
~|elegant-themes~|elegant-themes-icon~|
Ultra Low Temperature Freezer U101
Your Subtitle Goes Here
To protect your samples and store them compactly, you can store them in our ultra low temperature freezer. At a temperature of -80°C you samples remain stable. Height-adjustable gratings as well as vacuum insulation provide maximum storage space. Special ventilation prevents the formation of ice and protects your samples from damage.
~|elegant-themes~|elegant-themes-icon~|
Incubating shaker
Your Subtitle Goes Here
The incubating shaker is generally used for all work requiring agitation, including homogenization, bacteria cultures or incubation. The microprocessor controller helps you enter settings rapidly and accurately and exactly reproduce the necessary settings.
Admission
Opening hours
Directions